Company
YOUNG AND DYNAMIC
Located in Correggio, considered everywhere the homeland of Automotive Equipment, TECO AUTOMOTIVE EQUIPMENT design and manufactures a wide range of products dedicated to the wheel care of motorcycles, cars, light commercial vehicles and trucks. The company began manufacturing components for the Automotive Equipment Industry in 1985 under a different brand name. Coherently with the real ambition of the management, in 1990 the company changed its name to TECO and succeeded in putting on the market three models entirely designed by its technical staff: two tyre changers and a wheel balancer. Nowadays TECO can boast of a product range composed of over 65 models and a total production volume of over 6.000 units per year.
TECO VALUE PROPOSITION
To meet the expectations of customers and end-users, the policy of the company is based on the following guidelines:
(1) High quality products, specifically conceived for professional and super-intensive purposes;
(2) Constant research and development activity, focused on conceiving new technical solutions for the maintenance of «new generation» tyres;
(3) Rapid and efficient «Customer Service», average delivery time 15 days from order;
(4) Strong product characterization, coherent with the typical aesthetics taste of Italian design.
As a result of this strategy, in 2006 TECO has won the second edition of the competition «Innovation for the Internationalization». This prize is yearly awarded by the Industry Association and Chamber of Commerce of Reggio Emilia to the company which has increased more its export turnover thanks to its ability to develop and implement innovative products.
To confirm the leader-ship reached in its business field, in 2009 the new «Lever-Less» tyre changer TECO 40 TOP has been in exposition at the «Tokyo Mirakain Museum of Emerging Science and Innovation» within the event «Italy-Japan 2009». The target of this exhibition was to show through some selected innovative products the 2 main features of the Italian industry:
- creativity and design;
- technology, innovation and product quality.
In 2012 the new wheel washing machine LR400 has been awarded as one of the best 3 new products of the yearmatching technological innovation, safety at work and environmental respect. This prize has been awarded by the industry association of Reggio Emilia.
PRODUCTS CONCEIVED FOR INDUSTRY PROFESSIONALS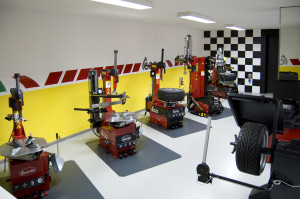 Specifically conceived for industry professionals, such as body repair shops, fleet maintenance companies and tyre shops, the TECO product range, which adopts many patented technical solutions, follows these basic strategic guidelines of development: (1) improvement of operational methodologies on existing machines, (2) adoption of innovative technical solutions for «new generation» products, (3) implementation of auxiliary devices for the maintenance of «new generation» tyres in cooperation with the major tyre manufacturers, (4) development of other new products as range complement (i.e. nitrogen generators / wheel washing machines).
A WORLDWIDE COMPANY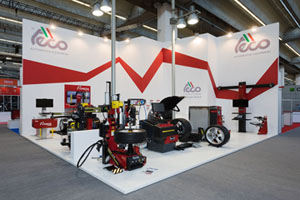 Present in all continents with a capillary network of over 130 dealers, TECO has always concentrated its efforts on export where the 80% of its production is dedicated. To promote its products on international markets, TECO takes directly part to the main world exhibitions in the automotive field such as Bologna (Italy), Frankfurt and Essen (Germany), Las Vegas (USA), Shanghai and Beijing (China) and Paris (France).